Golden AutoDrive Hand Control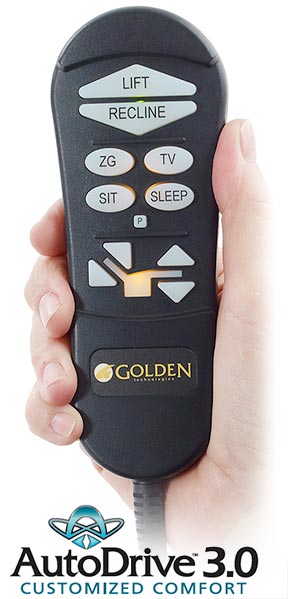 Golden's MaxiComfort series lift chairs use a specialized hand control, the AutoDrive 3.0. This custom hand control is specially designed for the MaxiComfort series.

The main lift and recline buttons allow you to operate the chair like a standard three position lift chair, while the separate buttons below give you direct control of the two individual motors.
Also included are pre-programmed buttons to move the chair to the Zero Gravity position, tv watching position, seated position, and sleeping position.
You can also reprogram these four buttons using the P button, so you only need to press one button to get the chair in your favorite recline position.

Buttons:
P - Re-program the custom positions or activate the lockout feature.
ZG - Move the chair to the Zero Gravity position, which balances your spine, hip, and knee joints.
TV - Move the chair to the tv watching position, with the leg rest up and the backrest upright.
SIT - Move the chair to the default seated position, with the legrest down and the backrest up.
SLEEP - Move the chair to the sleep position, with the backrest reclined and the legrest up.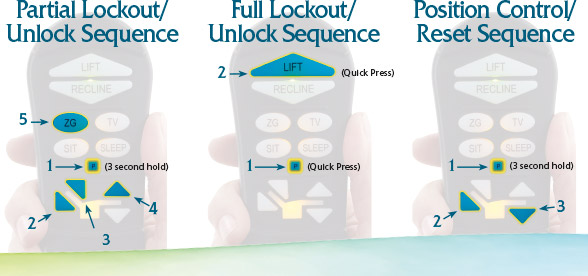 ---

Back